The Flintstones Difference
Flintstones, like all exceptional businesses, is dedicated to giving back to the community that supports us. We do this through special projects, foundations and other good causes we feel passionate about. We take great pride in all projects we have been a part of; this section highlights some of the projects we have completed and community activities we are working on. You can check back at our blog from time to time to see up-to-date projects.
Restoring Chimneys for the Queen Alexander Foundation
The Queen Alexander Foundation is a charity that raises funds to support children and youth with special needs primarily on Vancouver Island and the Gulf Islands.
Flintstones was glad to help out this great organization by donating our resources to help rebuild and restore some of their heritage chimneys at the foundation's headquarters.
Restoration of Chinese Heritage Building
Flintstones was involved in a variety of restoration aspects of this heritage building. The Chinese Heritage building has a legacy in Victoria, as one of the oldest heritage style buildings still in the downtown core. We donated materials and labour for this restoration project.
Carnarvon Ball Club Project Sponsorship
Flintstones donated labour and material and completed the site preparation, clean-up, and materials transportation for a new batting cage for Carnarvon Ball Club at Fireman's Park in Oak Bay. We undertook the project management and coordinated with other sponsors to make this much-needed upgrade happen!
Restoration of Christ Church Cathedral
Flintstones was instrumental in helping repair several aging aspects of one of Victoria's most distinguished landmarks, the Christ Cathedral Church. Working on heritage buildings of this magnitude requires the most skilled masons and staff. Blending aged brick with newer brick can be one of the challenges associated with heritage builds like the Christ Cathedral Church.
Flintstones Masonry donated the time, labour and materials required to complete several restoration aspects of the church. For more info about the Christ Cathedral Church, please visit their website.
The Sri Chinmoy Centre
This was a great cause that we were able to help out on. Sri Chinmoy was an inspirational leader, poet, author, musician, artist, humanitarian, athlete and spiritual teacher — and a glowing example of the boundless positive potential of the human spirit. Flintstones Masonry donated concrete and a complete stone surround to help create a focal point for the plaque. For more information on the Sri Chinmoy Centre, check out their website.
Chimney Work for the Saanich Heritage Foundation
With stone masons from all over the world, we are especially aware of how important heritage and culture are to a community. We were very pleased to assist the Saanich Heritage Foundation by helping to rebuild and restore two aging chimneys at the Dodd house.
The Saanich Heritage Foundation is a registered non-profit society that promotes the preservation, maintenance and restoration of buildings, structures and land located in the Municipality of Saanich that have been designated as Municipal Heritage Sites by the Municipal Council. To find out more, visit the Saanich Heritage Foundation website.
Wildflower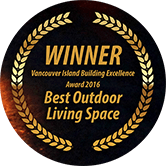 Awarded Best Outdoor Living Space of the Year – 2016
The VIBE Awards, owned and produced by the Canadian Home Builders' Association of Vancouver Island (CHBA-VI), is Vancouver Island's premier housing awards program that highlights and celebrates excellence in home building on Vancouver Island.
This project was a stunning example of a property that was completely transformed by the combined vision of our team and that of the homeowners. The fact that it won this award just validated what we already knew.
Crescent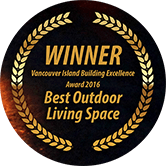 Runner-up Outdoor Living Space of the Year – 2015
The Construction Achievements and Renovations of Excellence (CARE) Awards are presented to Vancouver Island's leaders in sustainable West Coast design and construction. The competition is tight so being recognized at all is a major achievement. We were exceptionally proud of our work on this project.
Flintstones designed, sourced, fabricated and installed all of the stone products for this property including the infinity pool, custom firepit and it's expansive stone decks and copings.
The Island's Top 20 Under 40
How do you find the 20 best young entrepreneurs on Vancouver Island? For the sixth year in a row, an Island-wide panel of judges ranging from mayors and councillors of Island cities and towns to prominent business people has the answer. Meet the 2018 Top 20 Under 40 Business and Community Achievement Award winners.
https://www.timescolonist.com/islander/the-islands-top-20-under-40-4661451